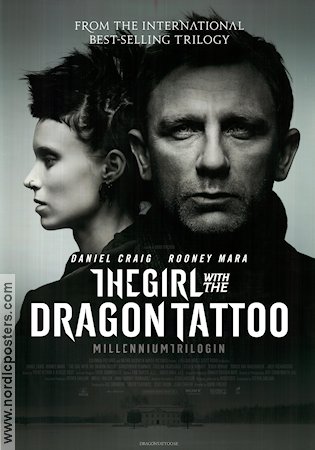 The Girl with the Dragon Tattoo
Release Date: December 20, 2011
Actors: Daniel Craig, Rooney Mara
Genre: Drama
Rating: R
Current Location: In Theaters
5/5 Robots: Because Lisbeth is badass!
Journalist Mikael Blomkvist is aided in his search for a woman who has been missing for forty years by Lisbeth Salander, a young computer hacker.
There are some movies that move you. And then there are movies like The Girl with the Dragon Tattoo that f*** you up. If you've seen the movie, you know what I mean. This movie takes you on such an emotional roller coaster that you feel like you have whiplash after you leave the theater. I'll go as far to say that this movie was the best movie of last year. It's that good. Rooney Mara gives a stellar performance as Lisbeth Salander, a girl who embodies girl power to the core. I have actually seen the orignial Swedish version of the film about a year ago, and I believe that the US version improves on the foreign film.
Another great part about this movie is the opening credits. Movies now are taking liberties with their opening credits, much like Up in the Air did. But this movie took it to a new level. Combining Karen O's music with jarring images made you believe that what you were about to witness would be epic. As it was. Rooney Mara and David Fincher (director) are in the running for nominations for Oscars. That's reason enough to check this movie out.
I recommend this movie to anyone who loves a good fast paced mystery, good story-telling, and interesting characters. DON'T see this movie if you are easily offended by sexual scenes, nudity, or graphic violence.