So I'm turning 21!! Yeah, it's the big 2-1. The day I will be allowed to go to the store, buy alcohol, and realize how legally drunk I can get. And the day I will be able to go to a casino, lose all my money, and realize how unlucky I truly am!! But seriously, I'm pretty excited. And to show my excitement I'll be having a giveaway for my birthday.
I'm a twin, so I will be giving away winner's choice of a book that contains twins! Since it's also my sister's birthday, there will be 2 winners!
Some suggestions of books that have twins are listed below, but you may choose any book if you win as long as it has twins in it:
Update: I have been reading all the comments and some of you have given great book suggestions with twins, so here's some extra books you might want to consider: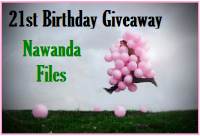 This giveaway ends on my birthday - March 29!
It's international as long as The Book Depository ships to you!
Fill in the rafflecopter below to enter!