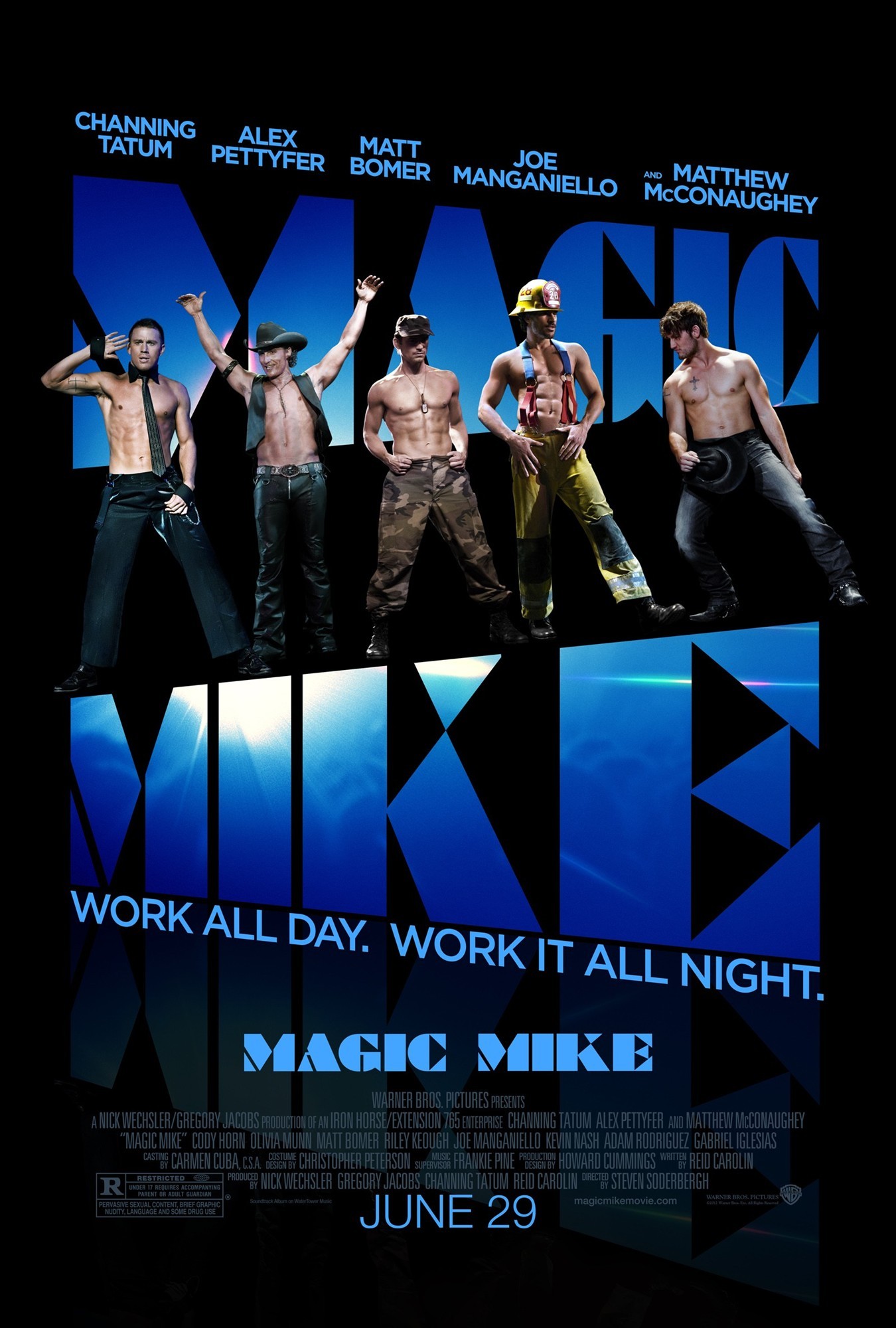 Magic Mike
Release Date: June 29, 2012
Actors: Channing Tatum, Alex Pettyfer
Genre: Comedy, Drama
Rating: R
Current Location: In theaters soon
5/5 Robots: Surprisingly Awesome!
A male stripper teaches a younger performer how to party, pick up women, and make easy money.
I was lucky enough to get an advance screening pass to this move! It was my first time actually attending an advance screening, so it was pretty exciting. If you have seen the trailer for
Magic Mike
you know the basic premise of the film. Strippers. Male strippers to be exact. Who wouldn't love this film?! Straight men, probably :)
Going into the film I thought that there was a large chance it was going to be a giant cheese fest. Male stripping has to be a huge source for some lame humor. Surprisingly the movie wasn't campy. Yes, there were hilarious moments, but they weren't ever smothered with an insane amount of cheese. In fact the movie felt real, and for a movie about stripping, this is a huge accomplishment.
The Acting:
I have to say that this is by far Channing Tatum's best role. I'm not a big fan of his. I've always thought that he's more eye-candy than actor. In
Magic Mike
he surely is eye-candy but his acting finally surpassed his good looks. He plays Mike, the lead character who recruits Alex Pettyfer's character into the business of stripping. Which brings me to...
Alex Pettyfer. He usually plays the hearthrob, but in Magic Mike he's almost this awkward kid who is trying to figure out his life. I know so many guys like his character, Adam. They're so desperate for friends and belonging that they are easily led down a destructive path. Pettyfer was remarkably good in the movie, providing the role of the audience as he navigates this world for the first time. And he has some hilarious scenes! Watching him try to be sexy when his character is awkward = brilliant.
Cody Horn has to be the stand out for the movie. She is the lead female, playing Adam's brother and love interest to Mike. This is Horn's first role and she is instantly likable. The moral voice in the film, Horn never came off grating or self-righteous, which could have easily occurred. Instead, her character is grounded by the need to protect her brother.
The other male strippers are awesome! Matthew McConaughey, Matt Bomer, and Joe Manganiello all had great scenes. And of course, they are all sexy as hell :)
The Screenplay/Directing:
The big surprise of this movie is that it almost felt independent. The shots were more artistic and the dialogue felt improvised at times. It served to make the movie feel more real and way less campy.
The movie is really fantastic because it takes you on this fun and emotional roller coaster. It's not just about half-naked bodies prancing around stage. There is an actual story to the movie. And it's a good one. One that I would definitely recommend seeing.
Bonus:
Check out a clip of the actors stripping/dancing to "It's Raining Men." Be warned - bare chests and gyrating bodies are involved.