Casting for
The Mortal Instruments
is heating up!
Jared Harris
has been cast as Hodge.
Lena Headey
has been cast as Jocelyn Fray. And
Godfrey Gao
joins the cast as Magnus. Continue reading for pictures and Cassie Clare's take on the casting!
Jared Harris has been in
Sherlock Holmes
and
Mad Men
. I think he's a fantastic choice for Hodge! I really pictured Hodge like Harris and the actor is phenomenal.
Hodge is also a really complicated character. He's not entirely bad, not entirely good. He's a brilliant man led down a bad path a long time ago and he can't turn back, but he does love those kids he tutored. So if you've seen either Mad Men or Sherlock Holmes: Game of Shadows (in which he was Moriarty), you know this guy, and you know he's fantastic at moral ambiguity.
Lena Headey is one of my all time favorite actresses. She is a bad ass on Game of Thrones, and despite playing such a hated character, I still seem to love this actress. I am thrilled she will be a part of The Mortal Instruments. Great casting!
Jocelyn is a really fun character to write. She's overprotective (but for a reason) and often really unyielding and unsympathetic, but she's also a heroine who saved the world from Valentine, endured a lot of loss, and can execute some pretty badass moves. Moral ambiguity is always fun to play and who does it better than the gorgeous and talented Lena Headey.
I have had an actress crush on Lena for years so when they told me she was cast I did a happy dance and hit Sarah Rees Brennan on the head with a spoon. Actually I would have done that last bit anyway. Lena is amazing and I think she will be amazing as Jocelyn. I am super psyched.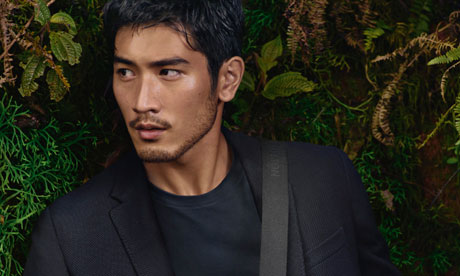 Image Credit: Louis Vuitton
Godfrey Gao is a model and may very well be the sexiest Asian man I have ever seen. The above picture is from is campaign with Louis Vuitton! Louis Vuitton!! Yeah, he's Magnus.
So after an exhaustive search during which many, many hot Asian men were considered by the casting director (her job, so painful), the director, and the seventy-odd other dudes who have to sign off on this kind of thing, I can confidently tell you that our Magnus may be …THE HOTTEST MAN IN THE WORLD.

Godfrey is, in addition to being all gorgeous and stuff, super-talented (his audition was awesome), loves the books, and is, like Magnus, ridiculously tall.

He is also super-nice — we emailed briefly and he said "I'm half Southeast Asian, because my mom is Peranakan Malaysian And my dad is Shanghainese - Soo hopefully the fans will like me playing Magnus!"
The actor playing Alec still hasn't been announced, but he has been cast.
The rest of the main
cast
includes Lily Collins, Jamie Campbell Bower, Robert Sheehan, and Jemima West.
What do you think? Surprised by the choices? Have you read the books? Will you be seeing the movie? Thoughts below!