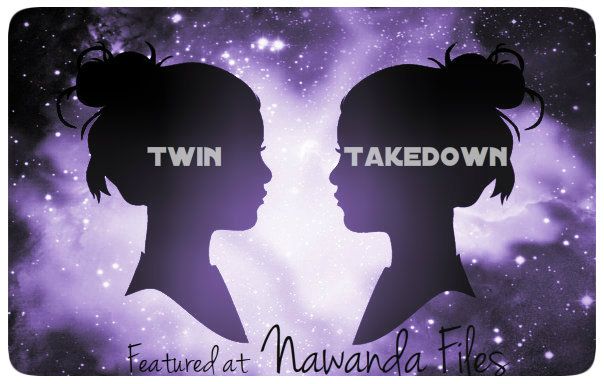 Who says all twins have the same opinion? Twin Takedown is a feature at Nawanda Files where my twin and I review the same book. We don't always agree. Spoilers are like landmines in this review. Beware.
Tiger Lily
by
Jodi Lynn Anderson
Publisher:
Harper Collins Children's Books
Release Date: July 3, 2012
Before Peter Pan belonged to Wendy, he belonged to the girl with the crow feather in her hair. . . .
Fifteen-year-old Tiger Lily doesn't believe in love stories or happy endings. Then she meets the alluring teenage Peter Pan in the forbidden woods of Neverland and immediately falls under his spell.

Peter is unlike anyone she's ever known. Impetuous and brave, he both scares and enthralls her. As the leader of the Lost Boys, the most fearsome of Neverland's inhabitants, Peter is an unthinkable match for Tiger Lily. Soon, she is risking everything—her family, her future—to be with him. When she is faced with marriage to a terrible man in her own tribe, she must choose between the life she's always known and running away to an uncertain future with Peter.

With enemies threatening to tear them apart, the lovers seem doomed. But it's the arrival of Wendy Darling, an English girl who's everything Tiger Lily is not, that leads Tiger Lily to discover that the most dangerous enemies can live inside even the most loyal and loving heart.
Krista
: So I'm a lover of
Peter Pan
. I've never hidden my love. I even have a shirt that declares it. So going into this book my thoughts were...this better not be some cliche teenage love story that turns the original into a trite version. So maybe I was expecting A LOT from Anderson.
Becca
: So I'm a lover of
Peter Pan
...wait, you stole my intro, Krista! Darn. I can't say who's the bigger fan of J.M. Barrie or where my love transpired from. Simply put, I've seen the play (twice), own multiple copies of the book, and watch the 2003 movie every Christmas Eve. But you've been by my side for all of those as well, and I think we can both agree that staying true to J.M. Barrie's voice is what matters most. Which is why the 2003 movie reigns supreme.
Krista:
I'm going to go out a limb...I'm the bigger fan. While girls were fawning over Eric from
The Little Mermaid
and Prince Charming from
Cinderella,
this was how I pictured my future husband...
Although I imagined he would reciprocate the kiss. Beat that Wendy!!
Becca
: My Peter looked a little more like this.

Krista: What? Tinkerbell is the narrator! Color me surprised. But as I kept reading I think I may have fallen in love with the little fairy more than the title character. Not that I don't love Tiger Lily, but Tinkerbell can only carry one emotion. And therefore I only have one emotion for Tink...LOVE...
Becca:
The new perspective is by far the most interesting and compelling part of the novel. But the beginning is a little...Zzzzz
Krista:
I think the beginning is the most original portion, which doesn't mean it's boring. And I saw you reading this book, you didn't fall asleep! Exaggerate *shakes head*. Tiger Lily's tribe is all new to this world. We meet Pine Sap, Moon Eye, and Tik Tok, which were additions to the original play. How could you not like them? Wait...I know...It's your Peter Pan lust. You haven't overcome that yet.
Becca:
Okay, okay, I admit it! I blushed every time Peter was named. Which sadly wasn't very many in the first 60 pages. But Tinkerbell was way more lusty than me (I think...).
Krista:
Anderson's writing is beautiful. Hands down some of the best writing in YA. My initial fears were appeased. This book wasn't amateurish or too modern. It held the same magical quality of the original
Peter Pan
.
Becca:
I completely agree. Hands down, Anderson captured Neverland with her whimsical writing. It flowed beautifully and was unlike anything I had read before. I'll definitely be picking up another Anderson novel.
Krista:
Or can we beg her to write another Peter Pan twist? I don't want it to end!!! *sobs*
Krista:
Hello Peter. How I have dreamed of a YA version of you without it being sappy and dare I say...
Twilight-
y. He's honestly the same Peter I remember in the original tale. There's even some Tink swatting going on.
Becca: Yes, Peter harks back to the original. But (yes there is a but) Peter falls culprit to -- shall I even say it -- love. He seems a lot more mature in this rendition, which is not a bad thing, it's simply just different.
Krista:
Can we talk about the lost boys for a minute.
Becca:
Um...yes.
Krista:
The moment I read that the twins didn't know which one was which I was jumping up and down for joy.

For those of you who haven't read the original, the twins are actually confused about their identity in it. It was really awesome seeing these
characteristics
play into Anderson's version.
Becca: Yes, she did the twins justice and explained them rather well. By the end, I had a little Nibs crush. No lost boy was under-developed. Each had a perfect amout of "screen" time.
Krista:
So you've dumped Peter for Nibs then? *laughs*
Becca:
Who said I can't have them both?
Krista:
You minx! Alright, we can't talk about characters without mentioning the title character! I felt connected to Tiger Lily and her wildness. Even though we aren't in her head, I felt like I understood her motives as if I was. I also adored Tik Tok. He's her adoptive father and the shaman of the tribe, but he's also hated on by the Englander for dressing like a woman. I think that Tik Tok's story was incredibly interesting, and it tied in well with Tiger Lily's tale.
Becca:
I feel like the devil's advocate here. I could appreciate Tiger Lily's quiet courage, but I enjoyed reading scenes with the lost boys, the pirates, and hearing from Tink more than being stuck in the tribe setting. Really, it's just preference. The tribe felt more...real. There were undertones of abuse, and when I picture myself flying to Neverland (beside Peter of course), it's a magical place full of adventure. Abuse, however, does not fit into this image. I understand Anderson's reasoning, so I wouldn't knock the book for it. Again, just preference.
Krista:
I see where you're coming from. Preference is definitely a big part of reading!
Krista:
I will always be a Wendy fan. But this book has made me a Tiger Lily fan too. Although I'm not sure I was convinced by the romance between Tiger Lily and Peter Pan. They just seemed like really good friends. The chemistry wasn't there. But I felt their connection and I think that was enough. I also imagine their dates looking something like this...
Becca: (*laughing*) Yep, I cringed a little every time they got "closer." For as much time that I spent in Tiger Lily's head, I felt that Peter wasn't quite right for her. And I was just waiting for her to realize it too.
Krista: I think the real romance in the book is Tink and Pan. It's obvious Tink falls head over heals for Peter, and he has some affection for her. In the original story there love is a lot more heightened. Need I remind you...Peter chooses Tinkerbell in the end. Not Wendy.
Becca: While I do love the relationship between Tink and Peter, I adore Peter's relationship with Wendy. And the small instance where Wendy arrives in the book, I couldn't help but smile. I had a feeling we were supposed to hate her. But I just can't
.
Krista: Ugh! You can't sway me with those pictures...Tink forever!
Becca: Hello, flying with fairies under the moonlight? Yes please!
Krista: You and the 2003 movie *shakes head*. Let's get back on track here. Biased Peter Pan opinions aside, Anderson creates a book that makes you love all the relationships with Pan. Tink-Pan, Wendy-Pan, and Tiger Lily-Pan are all great pairings. They all have their faults (some more lustful than others) but they're all so different and engaging. And I think this is really where the book succeeds.

Krista: Easy. There are so many great lines in Tiger Lily. But this is my favorite of Anderson's.
"Sometimes I think that maybe we are just stories. Like we may as well be words on a page, because we're only what we've done and what we are going to do." - pg 282
Becca:
"Pan held his hands clasped in a tent on his lap, and he bowed his head. He seemed to be trying to remember something, and it was a long time before he finally said, 'Our Father. Our Father. Our Father. Amen.' " - pg 55
Krista:
Of course I go poetic and you go for funny.
Krista:
Loved the ending! It's the biggest twist from the original. Every time I watch the 2003 version I'm screaming at Peter "GO WITH WENDY!!" And now thanks to Anderson, I have a version where this does indeed happen. I even cried a bit. Thank you.
Becca:
We obviously don't see eye to eye on many things. One of the best parts of Peter Pan (for me) is that he's the
only
boy who will truly never grow up. He represents youth and joy, and by changing this, the book ended on a sad note for me -- not really even bittersweet.
Krista: *sticks fingers in ears* LALALALA. I won't listen to your foolishness!
Becca:
Tiger Lily is essentially the one who is young forever, which makes me feel kinda weird, like a little piece of childhood happiness is being crushed. To me, Peter Pan is not really Peter Pan if he chooses to leave Neverland and grow up. It's sad to think about a Neverland without him. Think of all the children who will miss out on adventures?
Krista
: Which is why it's an amazing change up! It's original, fresh, and I loved that Anderson made it her own. We can agree to disagree on this one. I'll put away my claws for now.
Krista:
Solid 5 stars. Without a doubt. My only wish is that instead of the
Peter Pan
movie prequel in the works they decide to make a
Tiger Lily
movie based on the book. That would be awesome. Overall, Anderson kept the same tone of the original while adding her own spin to the beloved story. If you love fairy tales then this is a must read!
Becca:
5 stars. While I wish the ending was different and the pace was faster in the beginning, Anderson effortlessly captured Neverland's whimsy through Tinkerbell's eyes. It was a successful rendition of the classic tale.
We disagree on quite a few points, but I think we both can agree on one account.
Tiger Lily
would have made J.M. Barrie proud. What more can you ask for?