I've often mentally labeled every book I've read into terms that may be vague or self-explanatory. I wanted to add the list to my reviews because I think it's helpful. It's hard to discern if a book is going to be light or deep unless someone tells me (or I begin reading it). So under all my reviews I'll post one of the types.
These are
my
opinions, hence the
opinionated
list. They're not categorized by genre, but rather writing-style and content. There isn't a hierarchy. If I feel a book deserves the
Trash
label it could very well garner 5 stars.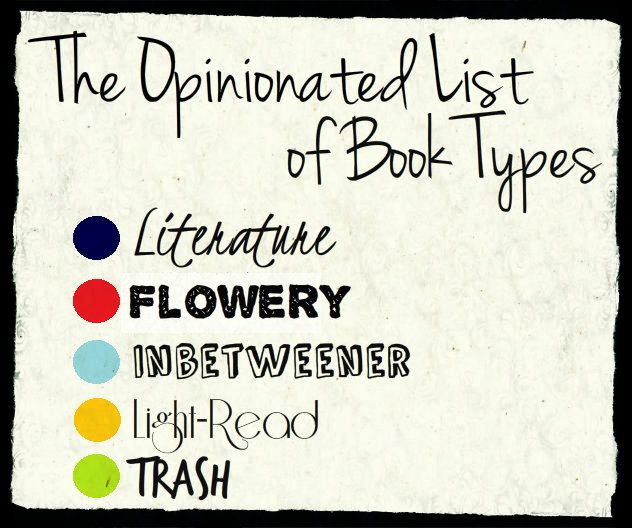 Here's a breakdown:
Literature: Literary merit, depth
Flowery: Lots of internal monologue, imagery, and may or may not have heavy themes
Inbetweener:

Has some imagery and internal monologue but equaled out with plot

Light-Read: Lots of dialogue. Not too many heavy themes.

Trash:

Guilty pleasures that have zero literary merit. These can still be amazing books! (Think Fifty Shades of Grey)
Do you type your books? What labels do you give them? Have you read books that are "Trash" and loved them? Sound off below!