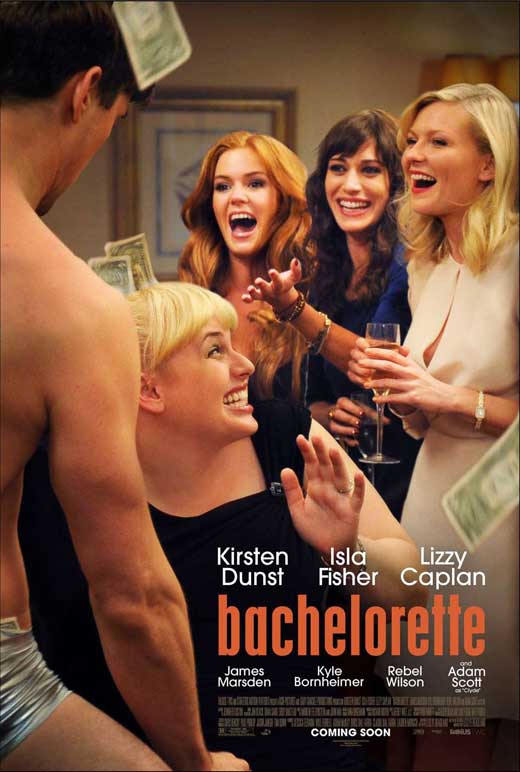 Bachelorette
Release Date: September 6, 2012
Actors: Kirsten Dunst, Isla Fisher and Lizzy Caplan
Genre: Comedy
Rating: R
Current Location: On-Demand/in limited theaters
Three friends are asked to be bridesmaids at a wedding of a woman they used to ridicule back in high school.
I saw this movie on iTunes since it is a special on-demand theatrical release. I have to say that it was well worth the money. It's a hilarious and messed up ride about bridesmaids. Feel like you've seen this movie before? Well, you haven't. I'm going to throw the comparisons of
Bridesmaids
out the door.
Bachelorette
brings a lot more raunchiness to the party and way more effed up bridesmaids. The thing is, I like the more effed up bridesmaids.
If you were head-over-heels in love with
Bridesmaids
than this movie may not be for you.
Bachelorette
is way different and you may not like the drugs, booze, and sex involved. There's cocaine, strippers, and the slogan of the film is "fuck everyone."
The heart of the film, is in the cold-hearted bitch brought by Kirsten Dunst's performance. She's the glue and keeps the less than sane characters grounded. Or at least attempts to. Most of the time she's just shouting the f-bomb and being a badass ice queen. She even takes down the douche, James Marsden, with spectacular words.
Isla Fisher is the crazy coke head, and Lizzy Kaplan is the slutty friend who has major history with one of the groomsmen. I loved all the characters, even though they all had issues. The bride, Rebel Wilson, is usually sporting some funny roles, but she was the serious character in this film. She had her moments, but they weren't that strong. I was hoping she'd be funnier. I can't wait for
Pitch Perfect
in October because she's going to rock it. Example A:
Back to
Bachelorette
. It's funny, it's dirty, and I love me some
Adam Scott
. His relationship with Lizzy Caplan in the film is so cute. But more than that, it has made me fall in love with one of the
cheesiest songs
ever. Seriously, watch it and be swept off your feet!
Overall, loved every minute of it but wished Rebel Wilson was funnier. If you didn't get the humor in Bridesmaids you'll fall in love with the sluttier, drunker girls in Bachelorette. And by the end of it, you're gonna be saying this.