Like This, Try This is a meme designed to introduce YA books that are similar to TV Shows, movies, and other books! It is usually featured on Tuesdays.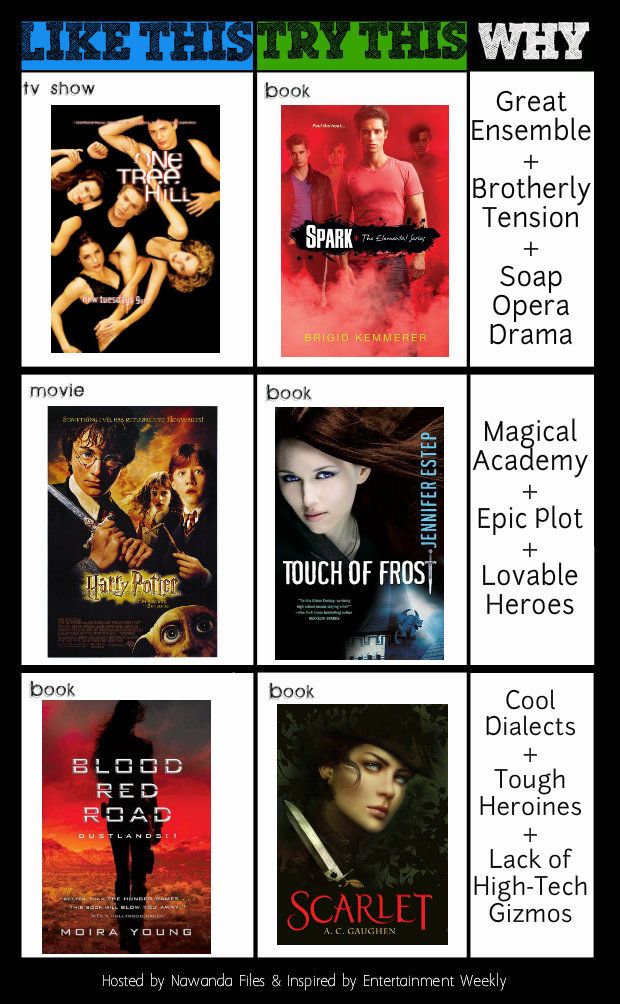 I said in my review for Spark (an all-time favorite of mine) that it resembled classic teen television with character-driven plots that would be perfect for a TV adaptation. Take out Spark's elemental magic and you have four brothers with as many family skeletons as the Scott family from One Tree Hill.
Touch of Frost has the magical whimsy of Harry Potter and without a doubt a plot that could extend for seven books. There's just so much richness to the world. And plus, there's a villain that seems as deathly terrifying as Lord Voldemort.
Blood Red Road and Scarlet share so many similar qualities, but I'd say above all else, these two protagonists rival men and take their lives into their own hands. Both would spark great feminist theory.
What do you think? Have you read any of these books? Agree with the comparisons? Leave your lovely comments below!
---
If you're interesting in participating in this meme, refer to the bottom of this
POST
!