Like This, Try This is a meme designed to introduce YA books that are similar to TV Shows, movies, and other books! It is usually featured on Tuesdays.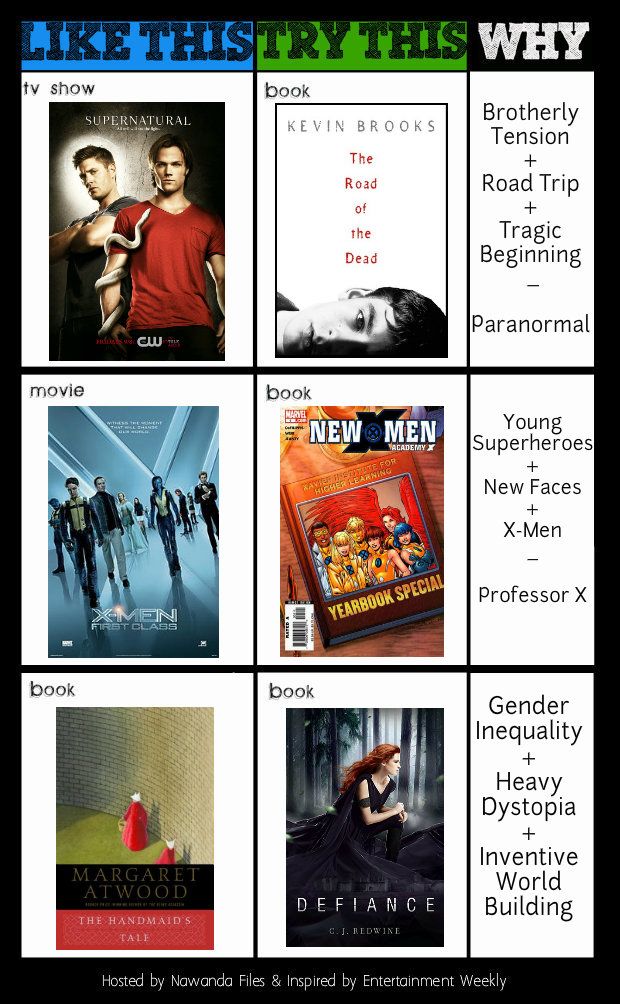 First off, we have The Road of the Dead. Two brothers learn that their sister has been tragically raped and murdered. They then go off on the road in search of her killer. Sound a little familiar? In Supernatural, Sam and Dean hit the road after Sam's girlfriend is brutally killed -- only in this TV show, the murderer takes a slightly paranormal shape. Next, I just had to add a comic book to the mix. New X-Men: Academy X is the beginning one of my favorite comic book story lines. It's a better version of X-Men: First Class (the comics) and certainly can rival the film. Professor X is absent from the comics because Cyclops (yep, the hottie) actually runs the academy. If you're new to comics, this is the one I always suggest YA fans to start with.
What do you think? Have you read any of these books? Agree with the comparisons? Leave your lovely comments below!
---
It's fairly simple, just choose books that you would recommend based off of TV shows, movies, and other books. The meme is usually featured on Tuesdays, but you're welcome to post on other days. You can use the layout above by pasting your own pictures into
this format
. Or you can create your own super fabulous layout! If you choose to participate please let me know via twitter or comment and I will be sure to visit and spread the word!
Currently, I don't have a meme badge to share, but I'm working on it ;) Feel free to make your own!
If you do choose to participate in Like This, Try This, thank you so much! If you don't, you're already awesome for stopping by :)