Stacking the Shelves is a weekly meme hosted by Tynga's Reviews featuring books added to our shelves and sharing our excitement for them.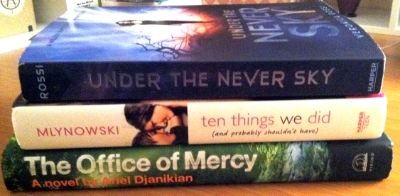 Thanks to Penguin, Flux and Netgalley!
Thanks to Felicia for this amazing trades!
MEGA HUGE A MILLION THANKS to Sallie for such a sweet surprise!
We weren't able to go to the Pitch Dark tour because Becca and I both came down with flu-like symptoms (turns out it was a sinus infection for Becca and an ear-infection for me). But Sallie was sweet and awesome enough to not only get us a swag (tons of signed bookmarks, Unearthly and Under the Never Sky tattoos, and a Team Christian beanie!) but a signed copy from one of our all time favorite authors....Veronica Rossi!!!! Yeah, pretty amazing. Thanks again, Sallie! You. Are. Awesome.
click book covers for goodreads

What's new on your shelves this week? Have you read any of these books? Comment below and don't forget to leave your links!