Book Mash is going to take a bit of a hiatus on Fridays. I know, I know, every time we start a version of Book Mash, we get distracted and stop it. But we have a genuine excuse now. July 1st, our NA Contemporary Addicted to You will be released, and until then, we have lots to share! So every Friday we'll be updating you, throwing out some teasers, and hopefully creating agonizing suspense. And for those of you who may be overloaded on Addicted to You promotion, feel free to skip our Friday posts :)
What's after the jump, you ask?
1) Button for Addicted to You! Grab it and support the July 1st release :)
2) Get Addicted Promo Tour Sign-Up information
3)THE TEASER POSTER! If you haven't seen it on Goodreads yet, then beware: it's steamier than the book cover and fits with the typical NA genre. If you're easily offended by lustful images, then I advise not to click ahead.
grab the button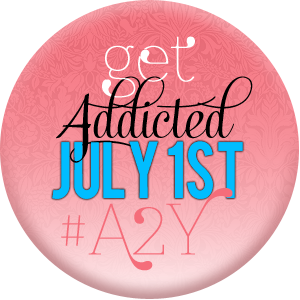 Hafsah, the magician that she is, whipped up a button for Addicted to You and also the banner below. There's no prize to grab it, but we'd love you billions if you did ;)
Get Addicted Promo Tour Sign-Ups
Before our big blog tour hosted by YA Bound that'll consist mostly of ARC reviews, we've decided to do a "Get Addicted" tour that will feature interviews, excerpts, and guest posts. The tour will take place between
May 27 - June 8th
. We welcome all bloggers to sign-up. To do so, click
here
where you can fill out a contact sheet that will include which days are preferable for you, etc.
Teaser poster
Are you ready? Behold, the teaser poster!
What do you think? We'll have more teaser posters in the future, though they may not feature models.
That's it for this week. Stop by next Friday for more A2Y news! And thanks again for all of your support :) We can't wait to share the book with the world, and especially with all of you.