Every Friday we'll be updating you, throwing out some teasers, and hopefully creating agonizing suspense for our upcoming NA contemporary Addicted to You. Of course, for those of you who may be overloaded on Addicted to You promotion, feel free to skip our Friday posts :)
What's after the jump, you ask?
1) Addicted to You Blog Tour Sign-Up information. (this is for reviews and ARCs)
2) Promo Tour Schedule (this is the promo tour without reviews before the Blog Tour)
3) A NEW TEASER POSTER! This one has a whole new teaser-like quote on it!
4) Grab a Button if you want to and haven't already ;) Totally optional!
BLOG TOUR SIGN-UPS
Our official blog tour will be hosted by YA Bound and begins the day of the book's release: July 1st. It will include mostly reviews and bloggers will receive e-ARCS. If you'd like to participate there may still be spots available. You can sign up:
HERE
If you're currently scheduled for the promo tour, you can still sign up for the blog tour for a review!
The Promo Tour will run from
May 27th
-
June 8th
and will include Excerpts, Interviews, Teasers, and Guest Posts. You can see the schedule:
HERE
GRAB THE BUTTON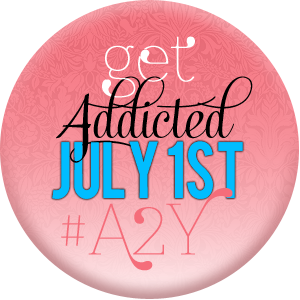 If you've checked out our last post, then this button looks familiar. We'll just leave it here if you like it and want to put it on your sidebar. Again, there's no prize to grab it, but we'd love you billions if you did ;)
TEASER POSTER
So he're the new teaser poster! It's not as sexy-like as the last one, but the quote is a little steamy...maybe ;)
What do you think? We'll have more teasers and such in the future! Did you miss Teaser Poster #1? You can see it
HERE
! Excerpts will be revealed during the promo tour starting May 27th!
That's it for this week. Stop by next Friday for more A2Y news! And thanks again for all of your support :) We can't wait to share the book with the world, and especially with all of you.