More books into movies news this week! Vampire Academy and Divergent have some filming photos. Fifty Shades of Grey hired a director. One of Lauren Oliver's books may be heading to the big screen, and much much more. Here are six of the nine books discussed in the post:



Continue reading for all the juicy details!
---
HIRES A DIRECTOR
---
Fifty Shades of Grey
Many of you may either be rolling you eyes about this adaptation or jumping up and down with glee. I'm skeptically intrigued by it. For a while it seemed like it may not even be made. But production is starting to gear up big time. Hiring a director is a HUGE step into the process. And some of you may recognize the name.
Sam Taylor-Johnson who directed
Nowhere Boy
, a movie about the young John Lennon, has been attached to the film. She's been a little infamous for marrying the star of them film, Aaron Johnson (
Kick-Ass
).
Producer Michael De Luca talked about the news:
"Sam's unique ability to gracefully showcase complex relationships dealing with love, emotion and sexual chemistry make her the ideal director to bring Christian and Anastasia's relationship to life," said De Luca. "EL James' characters and vivid storytelling require a director who is willing to take risks and push the envelope where needed, and Sam is a natural fit."
In more news, rumors for possible Christian Greys have been surfacing with actors quickly setting the record straight. One of those happens to be Armie Hammer, who had an interview with
Playboy
and was asked if he was approached about the role.
"No one actually offered me the movie, but while I was working on Lone Ranger my agent brought it up, and I said 'Nope,'" Hammer recalled. "I mean, come on — it's just mommy porn. I'm not going to sit on top of the laundry machine in spin cycle reading about putting a ball gag in someone's mouth. That doesn't do it for me."
Armie Hammer, you may be right that the book is basically porn, but it's going to gross a hell of a lot of money. Personally, I think they should just get all unknowns to play the leads and be done with it! Cast the movie already.
The production company is seeking a Summer 2014 release date.
---
GETS A RELEASE DATE
---
Miss Peregrine's Home for Peculiar Children
Mark your calendars!
Miss Peregrine's Home for Peculiar Children
has a release date:
July 31st, 2015
. This means that things will me heating up for pre-production. And don't forget about that amazing director attached the film. *cough cough* Tim Burton.
Fox also announced that Peregrine's Home for Peculiars will hit theaters July 31, 2015. The film, based on Ransom Riggs' debut novel, Miss Peregrine's Home for Peculiar Children, will be directed by Tim Burton from a script by X-Men: First Class writer Jane Goldman. The story follows a teenage boy who is transported to an island where he must help protect a group of orphans with special powers from creatures out to destroy them.
---
CASTING NEWS
---
Maze Runner
Patricia Clarkson (
The Green Mile, Easy A
) will helm one of the few adult roles in the adaptation. She'll be playing Chancellor Ava Paige, and I won't go into detail about the character to keep it spoiler free for those who don't want to know more.
Kinda awesome to have an Oscar nominee and Emmy winner in The Maze Runner. More than kinda. Patricia Clarkson as Ava Paige!!!!
— jamesdashner (@jamesdashner) June 18, 2013
SOURCE
Queen of the Tearling
This book has been getting some serious buzz. It may not be Young Adult exactly (neither is
Fifty Shades
) but I'm going to highlight it here because my favorite actress is attached to star in the female. That's right Emma-freaking-Watson!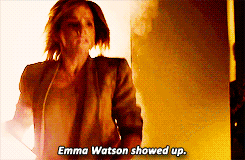 It's been sold in a huge seven figure deal, so I'm expecting a lot out of both the book and the film. I take offense to it being pitched as a "female" Game of Thrones. As if females can't enjoy GoT. Boo! The book releases in 2014 without a month set.
Book is part of Erika Johansen's fantasy trilogy whose 19-year-old female lead was partly inspired by a speech the author heard Barack Obama give in 2007. Harper Collins will publish the trilogy, which has been described as a female "Game of Thrones" beginning in 2014. The book is set three centuries after an environmental catastrophe when a malevolent Red Queen holds considerable power.
---
FILMING NEWS
---
Vampire Academy: Blood Sisters
First thing we need to get to is the
Sweepstakes
going on for a chance to
win a trip to London to visit the set of the movie!
If you're interested in entering you can visit this site
HERE
! The sweepstakes ends on June 26th! So be sure to enter soon.
Richelle Mead talked to Hypable about the upcoming film and she dished a little about the actors.
I haven't met any of the cast yet. They all are just spot on. I am so thrilled with the way that they did this casting. Everyone was just, I feel, very handpicked. The director was so conscientious about matching the character's personality with them. I think the one that most is, Gosh, it's really hard to pick anyone I would say is the most. I mean Zoey has that vibrancy and energy that Rose has. Danila's got that stoic Dmitri thing going down. Maybe it's 'cause he's a little older than the rest of the cast, which is exactly how it should be for the books. I think the one that really knocked me out was when I saw Cameron Monaghan cast as Mason. He is just such a dead ringer for the Mason in my head, which is bitter sweet for those who know Mason and the rest of the series. I look, and I just think, oh Cameron. But ya, they all are, I just couldn't be more thrilled with the way it panned out.
More tweets and photos from Zoey Deutch and Danila Kozlovsky. If their twitter-chemistry is anything like their movie-chemistry then I think we have nothing to worry about.
This is what @KozlovskyD and I look like after 6 hours of training. http://t.co/bOSkf8RNkR pic.twitter.com/pU661iCpyQ
— Zoey Deutch (@ZoeyDeutch) May 24, 2013
@ZoeyDeutch silent...Zoey
— Данила Козловский (@KozlovskyD) June 19, 2013
Who's the weirdo on the right? #vampireacademy #bloodsisters http://t.co/nFOHWwk5me pic.twitter.com/yGRRhhSIcP
— Zoey Deutch (@ZoeyDeutch) June 19, 2013
For more live updates be sure to check out @OfficialVAMovie. But be warned...it may suck you in for a few hours :)
SOURCE
Divergent
There have been
many
new stills from the film that have been released by Entertainment Weekly. I'm sure everyone has seen at least one by now. So before we get to those (that I will showcase via tweets -- because that's more fun) lets look at an interview that Shailene Woodley has with EW.
"What I like about Tris is that she's isn't perfect. She's not a superhero—she's not Katniss. She doesn't know how to shoot a bow and arrow, she's not a badass by nature."
I still have trouble liking her has Tris. And her interviews aren't urging me to reconsider. I don't know why this is. But I'm hoping I'll be surprised by an amazing performance in the film.
Now to the stills! There are a lot, so scroll down if you're not interested!
Photo: In this photo, Divergent director Neil Burger is talking to Theo James (Four) and Jai Courtney... http://t.co/OhtkqfFO2H
— DIVERGENT (@divergentdotcom) June 20, 2013
Photo: harpercollinschildrens: We're proud to be part of the Divergent Nation! http://t.co/oi6mAqCemE
— Mundie Moms (@MundieMoms) June 19, 2013
Photo: New Divergent still featuring Tris and Four at the ferris wheel http://t.co/2WgriFZoAs
— The Faction Four (@TheFactionFour) June 19, 2013
We point out who is who in this blown up pic of the @Divergent #Dauntless crew all together! via @mrdurr pic.twitter.com/92PM477TGw
— DivergentFans.com (@Divergent_Fans) June 10, 2013
"@epnebelle: Divergent in EW - pics 5, 6 pic.twitter.com/rmJIUUVLZF" Hi Christina!
— DivergentFans.com (@Divergent_Fans) June 19, 2013
"@epnebelle: Divergent in EW - pics 7, 8 (last ones) pic.twitter.com/5xYkdzb0vp"
— DivergentFans.com (@Divergent_Fans) June 19, 2013
Divergent in Entertainment Weekly - pic 1 pic.twitter.com/pVjthNF1CE
— epnebelle (@epnebelle) June 19, 2013
Divergent in EW - pics 2, 3, 4 pic.twitter.com/MrGn6G93qG
— epnebelle (@epnebelle) June 19, 2013
I'm going to choose one thing to comment on from all these pictures and its going to be....those bird tattoos on Tris. How many fans do you think will be sporting them after the movie? I must say though, they are cool.
---
---
Percy Jackson and the Sea of Monsters
More Percy Jackson character posters before the movie releases. They're keeping their kind of grungy theme, which I like immensely. But they can't fool me. I've seen this trailer and it's definitely targeting a younger "tween" audience.
New Sea of Monsters poster: Clarisse pic.twitter.com/83eNgMkk6a
— Hana (@AlwaysTVDAddict) June 21, 2013
New Sea of Monsters poster: Annabeth Chase pic.twitter.com/rVnmGIWyY6
— Hana (@AlwaysTVDAddict) June 21, 2013
New Sea of Monsters poster: Tyson pic.twitter.com/IwV7nKXIp5
— Hana (@AlwaysTVDAddict) June 21, 2013
New Sea of Monsters poster: Grover Underwood pic.twitter.com/n9PXPEaWWB
— Hana (@AlwaysTVDAddict) June 21, 2013
They also released an international poster and a new poster with all five actors!
Photo: percyjackson: The official International movie poster for Percy Jackson: Sea of Monsters! Reblog and... http://t.co/2voyl4D5Jo
— PageTurnersBlog (@PageTurnersBlog) June 21, 2013
NEW SEA OF MONSTERS POSTER pic.twitter.com/goXWCOINzw
— PerksOfBeingAFanboy. (@LiamKelsall) June 21, 2013
Lauren Oliver fans may be bummed that
Delirium
won't be on television next fall, but things may be looking up. The authors new novel, set to release March 2014, has been optioned by Universal in a seven figure deal after a bidding war. That's some serious news! I'm actually really excited for this author since people have been raving about her books (she has seven). I think it's about time one became a movie.
"I'm thrilled about Universal's enthusiasm and passion for the project, and excited about the chance to bring this story to the big screen," said Oliver, who has earned a legion of fans for her New York Times bestselling "Delirium" trilogy.
Don't know what
Panic
is about? Never even heard of it before? Well you're not alone. I was scratching my head on that one. So here's the synopsis below:
Panic began as so many things do in Carp, a dead-end town of 12,000 people in the middle of nowhere: because it was summer, and there was nothing else to do.
Heather never thought she would compete in Panic, a legendary game played by graduating seniors, where the stakes are high and the payoff is even higher. She'd never thought of herself as fearless, the kind of person who would fight to stand out. But when she finds something, and someone, to fight for, she will discover that she is braver than she ever thought.
Dodge has never been afraid of Panic. His secret will fuel him, and get him all the way through the game, he's sure of it. But what he doesn't know is that he's not the only one with a secret. Everyone has something to play for.
For Heather and Dodge, the game will bring new alliances, unexpected revelations, and the possibility of first love for each of them—and the knowledge that sometimes the very things we fear are those we need the most.
It's pretty vague...but sounds a little like
The Hunger Games
. It could definitely be a winner!
SOURCE
---
OMG OF THE WEEK!
---
The Morganville Vampires
Okay peeps! It's now time to put on your happy pants because this is some seriously exciting news!!
A web series may be starting for Morganville Vampires!
But before you get too excited, it's not a done deal yet. It's currently a Kickstarter that has to raise one million before it can be green lit. But how cool if it actually happens?! I don't know about you, but I'd be down for a web series.
Here's the Kickstarter video for those of you interested in learning more about the project.
SOURCE
---
---

My personal favorite news: Emma Roberts has been cast in Queen of the Tearling. I will watch anything that girl is in!

What's your favorite piece of books into movies news this week? What do you think about Armie Hammer dissing Fifty Shades of Grey? What about the maybe-Morganville web series? Sound off below!