Stacking the Shelves is a weekly meme hosted by Tynga's Reviews featuring books added to our shelves and sharing our excitement for them.
Only a few this week! I should go on a book buying ban, but pre-orders are so hard to pass up. *sigh* at least they're pretty :)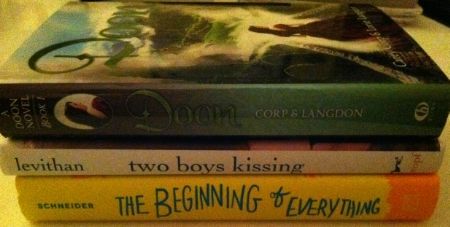 click book covers for goodreads
Book Reviews:
The Iron Traitor by Julie Kagawa
For fans of this series, this one doesn't disappoint. The magical journey continues, and the ending, literally, will have you crying or too stunned to do much of anything. Fans will want to read this one asap! There is a mother-of-all TWISTS people!
4 Stars
Waterfell by Amalie Howard
Major insta-love in the beginning forced Rissa to think more about a hot boy than her destiny, which put a damper on the conflict and slowed down the action. The plot would suit fans of Of Poseidon and The Vicious Deep. This just wasn't for me. 2 Stars
Sexy Sundays:
Deeper We Fall by Chelsea M. Cameron
Deeper We Fall is not the typical high school drinking mistake story. This book actually touches on the painful truth (fictionally) of excessive drinking and the repercussions of hiding the results and responsibilities of it. Moving. Romantic. Beautiful.
5 Stars
Cover Reveal:
Addicted for Now by Krista & Becca Ritchie
Okay, this is kind of biased, since it's our book. And I'm not really sure how to gif it so...
Cute guy winking!!! YES!
Also, here's the cover in case you missed it:
Current Giveaways:
Giveaway time!!! Here's the one that's currently running.
What's new on your shelves this week? Have you read any of these books? Comment below and don't forget to leave your links!