Stacking the Shelves is a weekly meme hosted by Tynga's Reviews featuring books added to our shelves and sharing our excitement for them.
The book buying ban is not working! I blame it on the fact that we now live closer to a Books-a-Million, which is about 1 MILLION times better than Barnes&Noble. They just carry so many more books! Anyway -- the ban must start soon because our addiction is getting serious.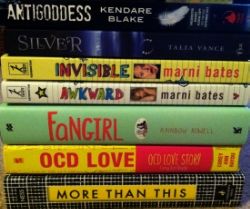 It must have been something in the water because we were obviously feeling the contemps this week. Becca is almost done with
Notable
by Marni Bates and ran out to get her other books -- it's that good.
My mom actually got me this one, and I was super excited! Not only does the premise sound amazing by the cover is really cool. It's a hardback that doesn't have a book jacket (
OCD Love Story
does the same thing). If this is a trend, then I kinda like it :)
Traded via YA Book Exchange
THE DISTANCE BETWEEN US BY KASIE WEST
All throughout the book I had permanent laugh-face:
A great snarky female lead with a romantic swoony guy. This contemporary romance about the rich and the poor feels like a nostalgic Pretty in Pink. If you love dry humor -- think JLaw -- cute romances, and happy endings, then The Distance Between Us is your perfect cup of hot chocolate ;)
4 Stars
MAN MADE BOY BY JON SKOVRON
The Original Premise:
The Insta-Love (3 Times):
An original monster retelling that will resonate well with lovers of
Percy Jackson
and
Cirque du Freak
and fans of books geared towards younger YA. But, for me, the main character was difficult to connect to and the humor never left me laughing.
3 Stars
BUTTERFLY COVE BY CHRISTINA SKYE
Butterfly Cove
is woven delicately into a network of strong females, friendships and first love. The male lead can cook *swoon* and the beachy setting provides a dreamy background. Geared more towards adult romance readers than the usual NA crowd, but this one is still very enjoyable.
5
Stars
Giveaway time!!! Here's the one that's currently running.
What's new on your shelves this week? Have you read any of these books? Comment below and don't forget to leave your links!