Stacking the Shelves is a weekly meme hosted by Tynga's Reviews featuring books added to our shelves and sharing our excitement for them.
This stacking the shelves is long overdue. We haven't had one in almost a whole month, and I'm sure I forgot to include some books. But here are the new lovelies on our shelves: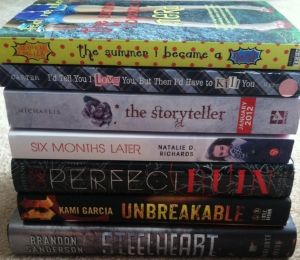 I pre-ordered and read
Unbreakable
and thought it was just okay. Becca LOVED
The Summer I Became a Nerd
so she had to order a paperback for the shelf. The others are on our top TBR.
Just downloaded these three a couple weeks ago. I've already read
Uninvited
and I thought it was really entertaining.
Traded via YA Book Exchange
I'm going to skip the weekly recap (because technically it would be a 3-week recap) and just highlight our giveaway. Here's the one that's currently running:
What's new on your shelves this week? Have you read any of these books? Comment below and don't forget to leave your links!