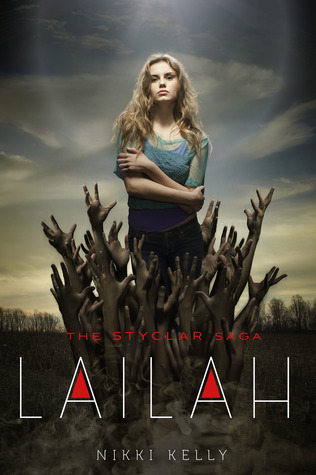 WAITING ON WEDNESDAY:
Waiting on Wednesday is a weekly meme hosted by Jill at Breaking the Spine spotlighting upcoming releases that readers are eagerly anticipating
The cover for this book looks creeeepy. It's already freaking me out! Combine vampires with angels and some other paranormal elements and this seems to be one of the few vamp books releasing in 2014. Which is why I'm eagerly awaiting it. Plus, lots of the early reviews have been stellar and they all mention how this book is incredibly unpredictable. Sounds like a winner! And...you know...that cover *shudders*
Lailah by Nikki Kelly releases October 7th, 2014. Keep reading for the blurb and links.
ABOUT THE BOOK:

The girl knows she's different. She doesn't age. She has no family. She has visions of a past life, but no clear clues as to what she is, or where she comes from. But there is a face in her dreams – a light that breaks through the darkness. She knows his name is Gabriel.

On her way home from work, the girl encounters an injured stranger whose name is Jonah. Soon, she will understand that Jonah belongs to a generation of Vampires that serve even darker forces. Jonah and the few like him, are fighting with help from an unlikely ally – a rogue Angel, named Gabriel.

In the crossfire between good and evil, love and hate, and life and death, the girl learns her name: Lailah. But when the lines between black and white begin to blur, where in the spectrum will she find her place? And with whom?

Gabriel and Jonah both want to protect her. But Lailah will have to fight her own battle to find out who she truly is.

FIND IT HERE: AMAZON | GOODREADS